Thousands of tree saplings planted across Manipur
Over 6,000 saplings have been planted in the presence of Forest department personnel
---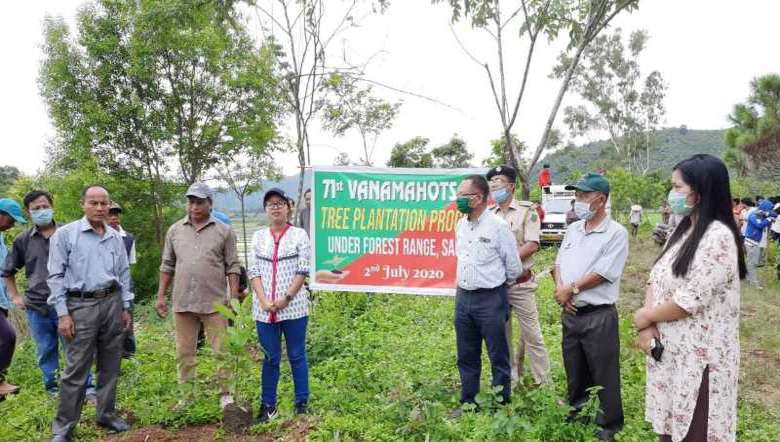 Thousands of tree saplings were planted in different parts of Manipur through the year in an effort to fight off global warming and save Mother Earth. On Tuesday, Hundreds of tree saplings were planted in Moreh and long the road from Saikot to Valpakot on the Churachandpur-Sugnu road to mark the culmination of week-long Van Mahotsav celebration in the state on Tuesday.
Over 6,000 saplings have been planted in the presence of Forest department personnel and others are given out to those who applied through their online service as the department, DFO of Churachandpur district, Esther Laltankim Serto told reporters, adding that the forest department will be giving away the remaining saplings of the 1,60,000 saplings available in the district.
Serto said as a part of the week-long celebration, the Forest department has conducted plantation drive across the district from July 2. Apart from plantation of trees, the other highlights of the celebration included spreading awareness among the masses, she said.
Earlier in the morning, tree plantation drive was carried out at 1st IRB premises located at Headquarter Veng. Officers of all rank and files of the Battalion planted about 200 tree saplings in and around the premises as part of the Van Mahotsav week, 2020.
Speaking as chief guest of the function, deputy commissioner, Churachandpur, Pawan Yadav, stressed the importance of planting and conservation of trees for the overall benefits of human being.
He also advocated the need for sustainable development of forests and urged all concerned to spread awareness on the matter.
Churachandpur SP, Amrita Sinha said that Van Mahotsav is not restricted to the festival alone, but serves as a channel to create awareness about tree plantation and conservation of mother nature. Pointing out that there is rampant deforestation in the district, she said that it is really necessary to spread awareness about plantation, preservation and conservation of forest or trees.
All concerned should take the lead from the individual capacity to preserve the trees and forest so that mother nature reciprocates the care in order that posterity enjoys the bliss of nature to the fullest, the SP added.
Meanwhile in Moreh, with an aim to contribute in the fight against global warming, reducing its impact on climate change and ultimately presenting a better environment for the next generation, the Moreh Battalion 43 Assam Rifles under the aegis of HQ 26 Sect AR/ IGAR (S) organised a tree sapling plantation programme in and around KLP Moreh on Tuesday.
Commander 26 sector Assam Rifles Brig Sunil Seoran led the sapling plantation which is taken up by the families and children of the 43 Assam Rifles; commander 26 sector AR Brig Sunil Seoran; colonel Sumit Sood (CO 43 AR) and other officers of 43 AR took part in the sapling plantation. Later, brigadier Sunil Seoran inspected the works taken up under 43 AR in Moreh.
First Published:
July 8, 2020, 12:24 p.m.