First ABOi kidney transplantation in Northeast conducted successfully at Shija Hospitals
A 28-year-old male underwent ABO-incompatible (ABOi) living-related Kidney Transplantation on October 26 at Shija Hospitals and Research Institute.
---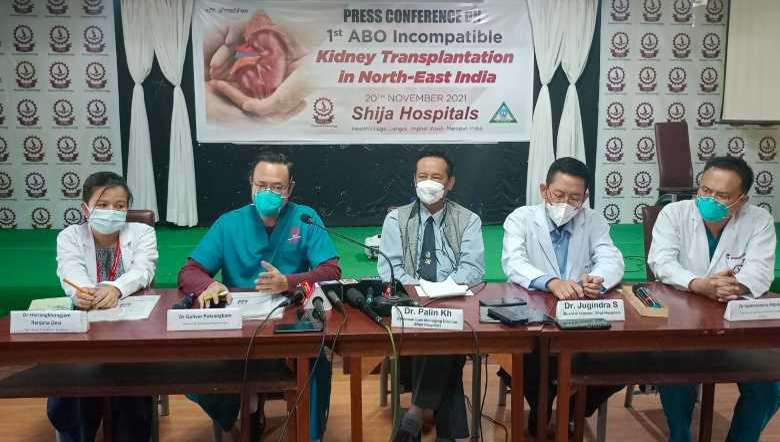 The Shija Hospitals and Research Institute (SHRI) on Saturday claimed to have successfully conducted ABO-incompatible (ABOi) kidney transplantation for the first time in Northeast India on October 26.
Speaking at a press meet held at Shija Hospitals auditorium, DGM-BD and Operations Santosh Shekhar said that a 28-year-old male underwent the ABO-incompatible (ABOi) living-related Kidney Transplantation on October 26 at Shija Hospitals and Research Institute.
The patient's blood group was O positive whereas the donor (his mother) was A positive. The patient was preconditioned with immunosuppressants, followed by removal of the anti-A antibodies in the patient with Immunoadsorption columns, he said. After ensuring a satisfactory antibody titre, the Kidney transplantation was performed, he mentioned.
Post transplantation, the patient had good diuresis and his graft continued to function normally. He had a rapid improvement in his well-being and was discharged on postoperative day seven with a normal graft function, Shekhar said.
He said that in an ABOi Kidney Transplant, the patient's and donor's blood types are incompatible. He mentioned that blood type incompatibility is the most common barrier to living donor Kidney Transplantation.
In the past, blood group incompatibility was an absolute contraindication to kidney transplantation because the preformed antibodies would cause a hyper acute rejection of the graft leading to immediate loss of the graft, he said. With recent advances in preconditioning of the patient, kidney transplantation across the ABO barrier is now possible, he said.
The transplantation team was led by director and consultant nephrologist Dr Guliver Potsangbam; consultant urologist and renal transplant surgeon Dr Somorendro Paonam; consultant urologist Dr Mahele Maharabam; consultant general and laparoscopic surgeon Dr Devendra Khwairakpam and  consultant transfusion medicine Dr Heirangkhongjam Ranjana Devi.
Shekhar said that contrary to the belief that ABOi Renal Transplant is extremely expensive and requires elaborate infrastructure, SHRI has a relatively simple and cost-effective preconditioning protocol.
Overcoming the blood group barrier would substantially increase and help mitigate the woes of the incessantly increasing number of patients on the waiting list for renal transplantation, he said. Successful Kidney Transplantation provides a longer and better quality of life than dialysis in end-stage Kidney disease patients, he added.
First Published:
Nov. 21, 2021, 9:50 a.m.