Behiang Ambush: Tributes paid to martyrs; home department, paramilitary forces instructed to nab perpetrators
Manipur Chief Minister N Biren Singh said that security forces along the Indo-Myanmar border area will be strengthened.
---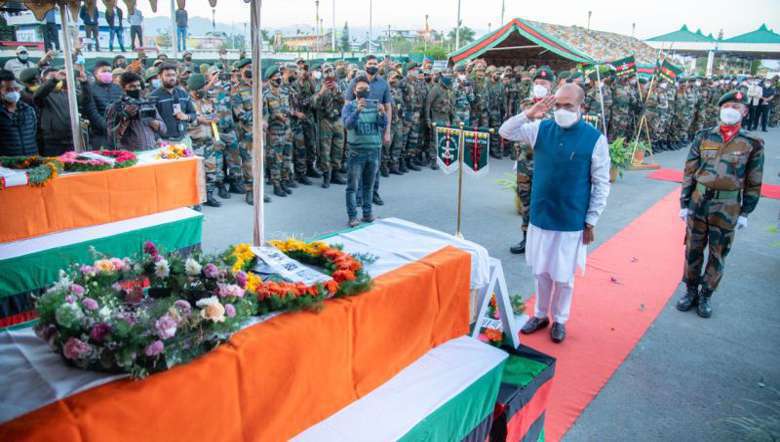 (PHOTO: Twitter)
---
Manipur Chief Minister N Biren Singh, along with high ranking police officials and Assam Rifles on Sunday paid last tributes to the martyrs who were killed during an ambush carried out atBehiang T village, Churachandpur district on Saturday.
Autopsy was conducted on the seven lifeless bodies of the martyrs namely, commanding officer of 46 Assam Rifles, Viplav Tripathi, his wife Anuja Tripathi, son Abeer Tripathi and other Assam Rifles personnel viz. Rifleman Suman Swargiary; Rifleman Khatnei Konyak; Rifleman Rajendra Prasad Meena and Rifleman Shyamal Das at Jawaharlal Nehru Institute of Medical Science, Porompat, Imphal East on Sunday.
ALSO READ: Vehicle of slain 46 Assam Rifles CO riddled with 85 bullets
Later the bodies were taken to Bir Tikendrajit International Airport, Imphal for the wreath laying ceremony.
Floral tributes were paid to the departed souls initiated by the family members of rifleman Rajendra Prasad Meena. It was followed by Chief Minister N Biren Singh; inspector general, Assam Rifles (south), Alok Naresh; director general of police (DGP) LM Khaute; additional director general of police (ADGP), L Kailun and others attended the floral tribute.
Speaking on the sideline of the ceremony, CM Biren recalled that the incident occurred on Saturday in a terrorist act and added that he has instructed home department and other paramilitary forces to nab the perpetrators and punish them according to the rule of law. He said security forces along the border area will be strengthened in order to prevent such act in the near future.
ALSO READ: Behiang Ambush: Assam Rifles CO, family among seven killed in Manipur
Responding to media, he said to seal the porous border of Indo-Myanmar along the stretch of Manipur and Myanmar border, fencing work has started and almost 40 kilometre have been completed. Due to some land dispute in some border area the fencing work is in pause but central and state government will take necessary steps to resume the border fencing work, he added.
He shared his deepest condolence and grief with the bereaved families. The government will not tolerate and will never compromise such terrorist act in the State, he said.
Later the bodies were airlifted to their respected birth place.
First Published:
Nov. 14, 2021, 10:42 p.m.