Face-to-Face Classes: CM Civil Services Coaching Scheme 2021-22 launched
CM Biren said it was his long due dream for the state to have a Civil Services Coaching Scheme for poor students.
---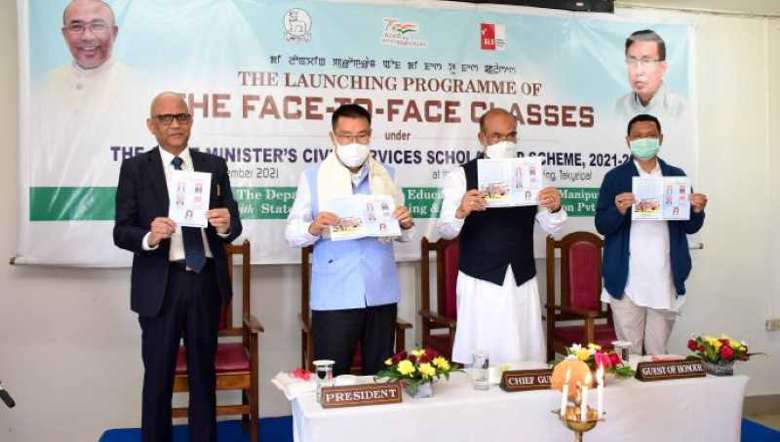 Chief Minister N Biren on Tuesday launched the Face-to-Face 'CM Civil Services Coaching Scheme 2021-22' at State Academy of Training, Takyel in Imphal West.
Since 1972, after Manipur attained statehood, the educational system has been the same in the state and the present BJP-led government wants to change and reform the system into human resource development, Biren said. Therefore, the coaching scheme for those students facing financial issue has been launched in the state, the CM added.
Stating that it was his long due dream to open such coaching scheme for higher studies or for those aspiring for Indian Administrative Services in the state, Biren encouraged students to dream big but with discipline. Without discipline no one can achieve what they want, the CM asserted.
Biren also informed that Olympian Park will be inaugurated soon in the state adding that statues of 16 Olympians will be kept. We are indeed very lucky and grateful that we have so many Olympians in a small state like Manipur, he added
The CM also stated that the government was the people's and that everybody will get privilege to explore its capability.
Education Minister S Rajen said the State Academy for Training is a temporary coaching centre and it will be shifted to permanent place at Iroishemba side to Don Bosco School.
The coaching centre is launched to provide facilities to students who want to give Indian Administrative Services and the chief minister has provided Rs 2.89 crore for coaching from planning department, the Minister said.
The launching programme was attended by MP Maharaja Leishemba Sanajaoba, chief secretary Rajesh Kumar, commissioner of higher education and technical education, M Harekhrishna.
 
First Published:
Nov. 10, 2021, 9:27 a.m.