Government cuts petrol, diesel prices across country as Diwali gift to nation
I'm also pleased to announce that the Govt. of Manipur will also reduce VAT on petrol and diesel each by Rs 7/- with immediate effect: CM Biren
---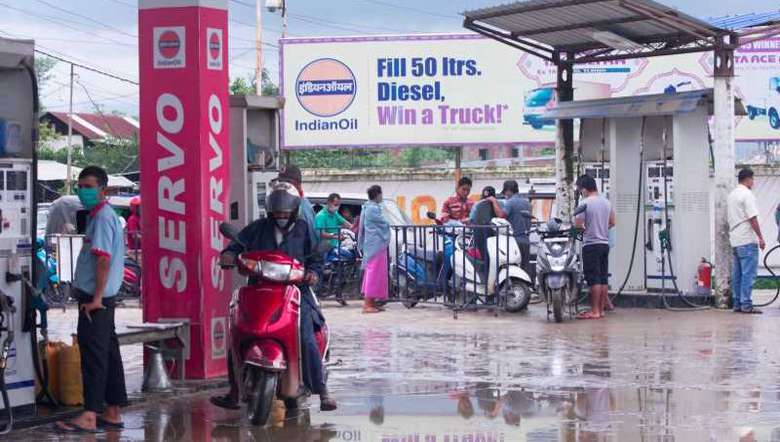 After the central government reduced excise duty on petrol and diesel, the Manipur government has reduced value added tax (VAT) on petrol and diesel each by Rs 7 with effect from Thursday.
According to a notification issued by the Ministry of Finance on Wednesday, the excise duty on petrol will be reduced by Rs 5 and that of diesel by Rs 10 across the country effectively from Thursday.
In Manipur, a release issued by the state finance department (expenditure department) stated that in close cooperation and coordination with the central government, the state government had also reduced its VAT by Rs 7 per litre for both petrol and diesel with effect from Thursday. After additional deduction with domestic VAT the current price on petrol and diesel will be reduced by Rs 12 and Rs 17 per litre on petrol and diesel respectively.
It stated that the price of petrol on November 3 was Rs 111.35 per litre which will be reduced to Rs 99.38 per litre and diesel on November 3 was Rs. 99.39 per litre which will be reduced to Rs 82.51. The order will be effective from November 4.
Another notification issued from the same department stated that in exercise of the power conferred under Section-22 of the Manipur Value Added Tax Act, 2004, the state government has modified VAT rates on High Speed Diesel (HSD) and Motor Spirits (MS)- petrol excluding aviation turbine fuel, spirit and gasoline.
The new VAT rate for HSD and MS will be 13.50 per cent and 25 per cent respectively with effect from Thursday, it stated. 
Chief Minister N Biren Singh tweeted: "Heartily welcome PM @narendramodi  Ji's decision to reduce excise duty on petrol & diesel as a gift to the people of this Nation on this Diwali.
I'm also pleased to announce that the Government of Manipur will also reduce VAT on petrol and diesel each by Rs 7/- with immediate effect."
Petrol price in the state had increased for eight consecutive days. On October 26 the price of petrol was marked at Rs 108.89 per litre, however with continuous increase, its price was marked Rs 111.41 on Tuesday.
Meanwhile, the price of diesel also increased for seven consecutive days starting from October 26. Its price was Rs 97.17 on October 25 but was increased to Rs 99.39 on November 1.
In Imphal the price of petrol and diesel was hiked to Rs 111.41 and Rs 99.39 respectively. However, the current rate of petrol and diesel has been reduced to Rs 105.27 and Rs 87.52 respectively.
From the previous rate of petrol Rs 6.08 and that of diesel, Rs 11.87 were reduced.
First Published:
Nov. 4, 2021, 11:29 a.m.