Manipur CM Biren launches 'Go to Village 2.0' at Thoubal district
The Manipur chief minister said that 4.51 Lakh households will be covered in 50 days under the "Go to Village 2.0".
---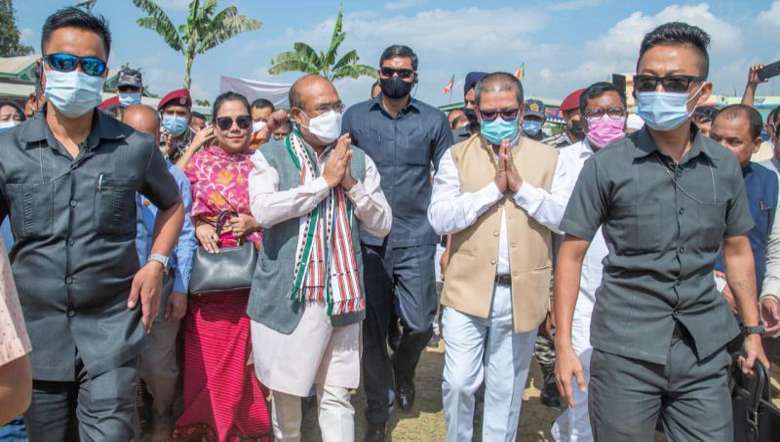 (PHOTO: Twitter)
---
The Manipur government revived its initiative to deliver governance at doorstep and bring inclusive development in the state with Chief Minister N Biren Singh launching the Go to Village 2.0 at Moijing Public Playground, Thoubal district on Tuesday.
The launching programme was organised by District Administration, Thoubal.
During the programme, CM Biren distributed assistances under various schemes, including smartphones under CM e-Support Scheme, textbooks, uniforms, sports equipments under Education department, Manipur Start Up Scheme, Cards under Pradhan Mantri Jan Arogya Yojana (PMJAY) and Chief Minister-gi Hakshelgi Tengbang (CMHT), Widows' Pension Scheme, pensions, aids and appliances for physically challenged people, Prime Minister Garib Kalyan Anna Yojana (PMGKAY) and Pradhan Mantri Ujjwala Yojana (PMUY) among others.
Speaking on the occasion, the CM said that Go to Village 2.0 is launched to continue village to village visits by government officials making sure that governance reaches every corner of the state. Due to COVID-19 pandemic, the earlier initiative of taking governance to the doorstep of people was on hold for some period.
He continued that the government under the leadership of Prime Minister Narendra Modi had taken up certain welfare schemes for its people. If benefits of all such schemes reach the targeted beneficiaries then lives of poor and needy people in the state would be better. As such, the government has taken up the programmes to ensure equal development.
Stating that certain stalls of different departments and banks have been opened at the Moijing Playground, Biren urged the people of Moijing to visit the stalls, seek information and access benefits of certain schemes being introduced for welfare of people.
Stating that less number of applications has been received from village areas for Start Up so far, he urged the youths of the area to apply for Start Up if they have any proper plan for starting a project for their living. He maintained that the government was always ready to take up all necessary steps to ensure that youths of the state go in the right direction and foster development.
He informed that the government has brought a new scheme 'CM Widow Pension Scheme' to provide monetary support of Rs 500 every month to the widows. He further briefed about benefits under different schemes of the government. He also said that the state has been able to maintain peace due to the prevalence of work culture in the minds of the people.
The government has covered around 2,669 villages in the earlier Go to village mission and many more villages would be covered under the Go to Village 2.0, he added.
Works minister, Thongam Biswajit said that the state has witnessed development in all sectors, including health, connectivity, water supply, handloom and handicrafts and education among others, in the last four and half years under the leadership of Biren.
The government with all its initiatives has ensured the benefits of people oriented schemes in reaching its targeted beneficiaries, he added.
As part of the programme, stalls of different government departments and banks were set up at the playground to provide assistance to the people of Moijing under the Go to Village 2.0. The stall will remain open for three days, on November 2, November 3 and November 5.
A Shumang Leela titled 'Keidoubei Kidoino', produced by the Department of Information and Public Relations to spread awareness on COVID-19, was also showcased.
Works Minister Thongam Biswajit, Education Minister Sorokhaibam Rajen, Tribal Affairs and Hills Minister Vungzagin Valte, Agriculture Minister Oinam Lukhoi, CAF and PD Minister Thokchom Satyabrata, deputy speaker Kongkham Robindro, Manipur Pollution Control Board chairman L Radhakishore, Manipur Building and Other Construction Workers' Welfare Board chairman Heikham Dingo, Wangjing Tentha MLA P Brojen, Lilong MLA Y Antas Khan, chief secretary Rajesh Kumar, administrative secretaries and other government officials attended the programme among others.
First Published:
Nov. 2, 2021, 4:33 p.m.