Improvement in Manipur's economy with increase in self-employment: CM Biren
A loan sanction order was distributed to 100 beneficiaries and SBI Motbung Branch, Jiribam Branch, SBI ATM booth and Bank of Baroda, Somdal Branch were inaugurated virtually during the Credit Outreach Programme held by the chief minister.
---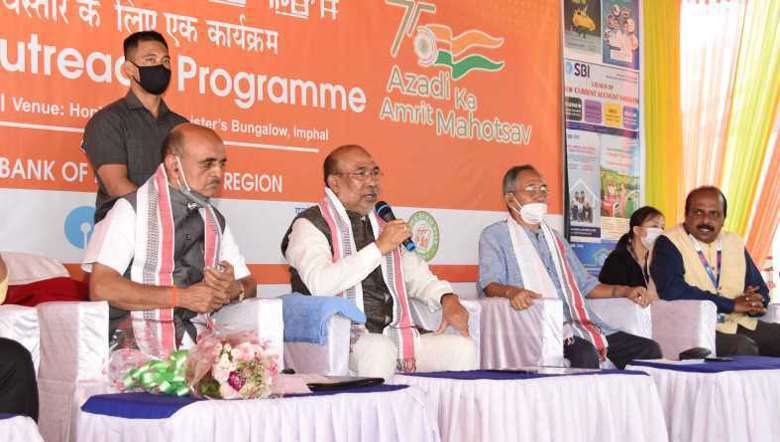 Manipur Chief Minister N Biren Singh on Friday said increase in self-employment has bolstered the state's economic condition and the state ranked first among small states in registration of Micro, Small Medium Enterprises (MSME) and employment generation as per records in the Analysis of Udyam Registration Data 2021.
Biren was speaking during the Credit Outreach Programme or Loan Sanction Letter Distribution programme held at CM's Secretariat on Friday. The programme was organised by the State Bank of India (SBI), Regional Business Office, Imphal. As a part of the programme, SBI Motbung Branch, Jiribam Branch, SBI ATM booth and Bank of Baroda, Somdal Branch were inaugurated virtually.
Addressing the function as chief guest, Biren said that the state government has taken up various schemes in connection with financial inclusion as it is a national priority to enable inclusive growth in the country. The state implemented Pradhan Mantri Jan Dhan Yojana (PMJDY) from the last four and half years and a total of 10.10 lakh beneficiaries of 5,13,359 households have opened their bank accounts under this scheme.
Biren said 45,349 people have benefited under the MUDRA scheme and a total Rs 356 crore had been sanctioned for it. Moreover, a total of 30,284 farmers had opened their Kishan Credit Card (KCC). As a maximum of farmers are tenants, many had been left out from this scheme and so the state government has appealed to the Centre to modify the norm of KCC to some extent to cover maximum farmers.
Under PM Street Vendor's AtmaNirbhar Nidhi (PM SVANidhi), loans were distributed to 7,466 beneficiaries, of whom 94 percent are women beneficiaries, he added.
During the function, a loan sanction order was distributed to 100 beneficiaries. However, it will be distributed to 1,570 beneficiaries with a total cost of Rs 65.50 crore.
The guest of honour of the function, Union Minister of State for Finance, Bhagwat Krishnarao Karad said that after meeting with the concerned staff, it came to light that the bank ratio per lakh in the state is only eight whereas the national average ratio is 40. To fill this gap, the meeting has resolved to open 30 bank branches by March 31 next year and 40 ATM booths within four to five months.
They also resolved to scale up the financial inclusion rate in the state, and the bank will organise a door to door campaigns for opening of individual bank accounts from November 10 to December 10, he added.
Krishnarao further mentioned that there are 230 sites in the country where there is no banking facility, out of which, four are in the state. Among these four sites, SBI will take the responsibility of opening their bank branches in two areas and the remaining two by HDFC and ICICI banks.
The programme was also attended by deputy chief minister Y Joykumar; Education minister S Rajen Singh; Manipur Legislative Assembly deputy speaker K Robindro; SBI North East Circle chief general manager R S Ramesh and others.
First Published:
Oct. 29, 2021, 8:50 p.m.