Government blamed for COVID-19 surge in Jiribam
17 segments in Jiribam declared containment zone and Jiri Keithel has been shut down indefinitely
---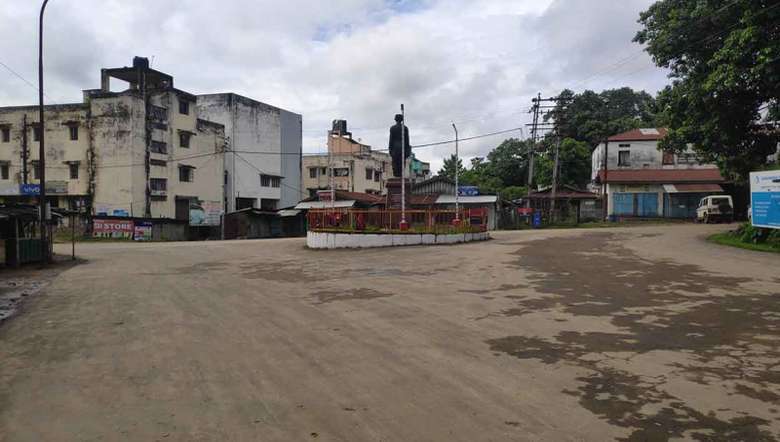 Jiribam (PHOTO: IFP)
---
In the wake of the confirmation of 28 police personnel of the station testing positive for COVID-19, district deputy commissioner W Malemnganba Chenglei on Saturday declared containment zones in 17 geographical segments of the district and Jiri Ima Keithel Chaokhat Thourang Lup announced indefinite shutdown of Jiri Keithel (market).
"It is sad that brethren of Manipur Police, who are protecting the people, have been unfortunately tested positive for COVID-19. As a result, markets in Jiribam are shut indefinitely," Joint secretary of Jiri Ima Keithel Chaokhat Thourang Lup, Th Jamini Devi said.
The joint secretary appealed to the government to take up immediate measures to prevent community spread. For those who are unable to come to Imphal due to lack of vehicles, she appealed to the government to make arrangements for COVID-19 patients or otherwise, treat them immediately by providing sufficient medical equipment and doctors.
Meanwhile, several CVOs blamed the Manipur government for the surge in the number of COVID-19 cases in the state.
The state government is responsible for the rise in positive cases of COVID-19 in Jiribam district, said the All Jiribam United Clubs Association (AJUCA), Jiri Development Organisation (JDO), and IPSA, Jiriribam during a meeting held at Hilghat Community Hall, Jiribam on Saturday.
AJUCA president Maipaksana Mangang said, "It is very sad that 28 persons were confirmed positive for COVID-19 on Friday while civil bodies in Jiribam, medical department, police, VDF and Jiribam district administration have been fighting tooth and nail to contain the pandemic."
Mangang appealed to the government to immediately fill up the shortages in the health department and to install mobile testing facilities for COVID-19 in the district. He asked where have the technicians, especially those for X-ray and Ultra-sound gone and drew the attention of the state authority for allegedly neglecting Jiribam district.
Stating that the referring of patients by Jiribam Hospital doctors to the Red Zone Silchar, Cachar will result in the increase of COVID-19 infection, he appealed to the state government to deal with the matter deeply and at length.
JDO president N Sadananda also said it is unfortunate that adequate medical staff and laboratory equipment have not been provided at Jiribam District Hospital despite appeals made by the civil bodies.
IPSA president N Dwijen said the state health department needs to work to prevent an increase in the number of positive cases. Failure of the district hospital to function well and referring patients with minor disease to Silchar hospital have increased the chances of spreading the disease. This is caused due to not listening to the appeals of CVOs and the state government is responsible for it, he added.
First Published:
July 5, 2020, 1:11 p.m.