Athuan Abonmai laid to rest; CM Biren lays foundation stone for memorial park
No targets will be achieved by harassing people, says Manipur Chief Minister N Biren
---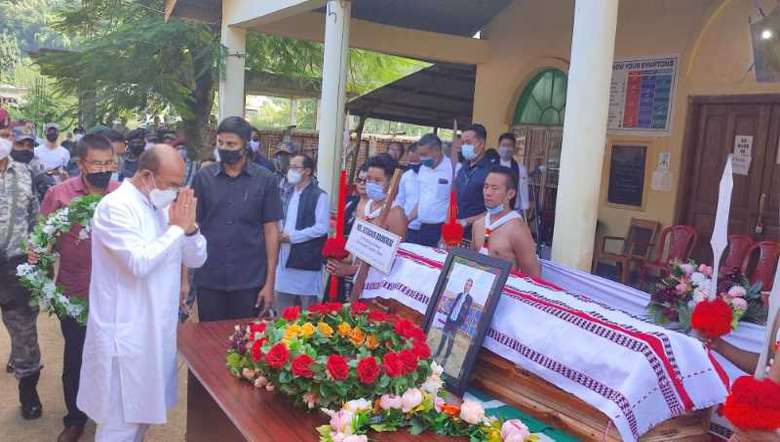 Athuan Abonmai funeral service cum condolence programme.
---
The body of Athuan Abonmai was laid to rest on Thursday at Langol Tarung, Imphal West district with a funeral service cum condolence programme organised by the JAC. As a part of the programme, Chief Minister N Biren also laid the foundation stone for the memorial park of Athuan Abonmai at Langol Tarung, Grace Colony.
During the condolence programme, Biren said that any target even if it is "independence" will not be achieved by harassing the people. He and the state government would never come to a compromise on the dastardly act and brutal killing of innocent people. He said that the murder of Athuan Abonmai had left the people of Manipur with extreme pain and deep anguish.
Late Abonmai was a courageous leader who stood for unity and integrity of the state, Biren said. 
"The government will not remain a mute spectator towards such brutality upon innocent people. The aims or any objectives of the killers would never be achieved because the Almighty would never listen to those who terrorise the people and take the lives of fellow humans," said Biren.
Abonmai's death would not go in vain, he further said. During his last visit to Union Home Minister Amit Shah, Biren said that he reminded the home minister of Abonmai by showing a photo in which Abonmai presented a shawl to him. Amit Shah immediately spoke to the Union home secretary to complete the procedures for taking over the case by NIA.
Biren said that it was the fastest action the Central government had ever taken regarding handing over a case to the NIA. He expressed confidence that the Central government will not spare the perpetrators.  Even if the case was handed over to the NIA, the state police would continue doing its investigation to provide vital clues and inputs to the NIA to bring the case to a logical conclusion, he said.
He added that the state government is not stopping the efforts on investigation, operations are continuing in several places according to an intelligence source report.
On the sidelines of the occasion, CM expressed concern that the terrorist acts of killing the innocents are still being continued even after the case of Athuan Abonmai. The state government will not remain silent on this, he reiterated.
The programme was attended by ministers of Manipur, MP Leishemba Sanajaoba and leaders of civil body organisations.
First Published:
Oct. 14, 2021, 10:19 p.m.