Manipur's daily COVID-19 positivity rate drops to 2.5 pc
Manipur on Thursday reported new COVID-19 tally below 100 and zero fatality
---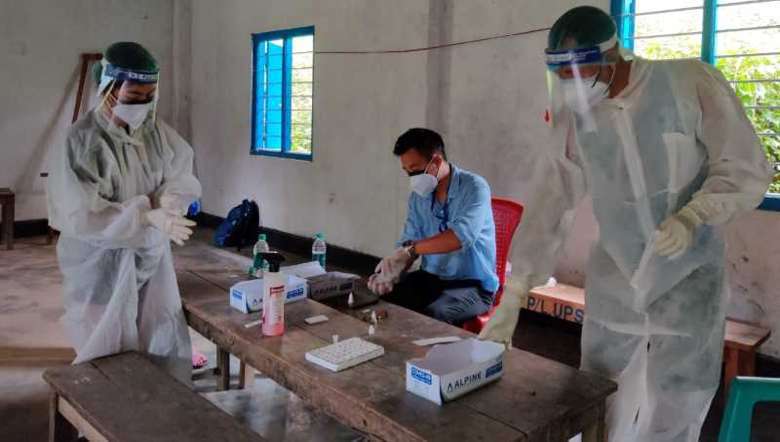 (File Photo: IFP)
---
Manipur's daily COVID-19 positivity rate dropped to 2.5 per cent on Thursday as the state continued to witness a fall in new COVID-19 cases below 100. The state reported 69 new positive cases and zero fatality, according to the latest update by the state health department.
The state's COVDI-19 tally surged to 1,22,432 while the death toll remained at 1,889. 
Imphal West continued to report the highest number of new COVID-19 cases with 30 positive cases. Eleven cases were reported from Thoubal, 10 from Imphal East, six from Kamjong, five from Ukhrul, four from Churachandpur, two from Bishnupur and one from Chandel, a release issued by the state COVID-19 Common Control Room stated.
All precautionary measures like containment and contact tracing are in place, it stated.
The state also recorded 84 new recoveries, taking the cumulative number of recovered cases to 1,19,099. The recovery rate is 97.28 per cent, the release added.
Manipur now has 1,444 COVID-19 active cases, as per the release.
Meanwhile, a total of 770 D-type oxygen cylinders and  196 B-type oxygen cylinders have been made available to different health institutions and health facilities of Manipur in the last 24 hours.
As per the latest update, the total number of people who have been administered the vaccine has reached 18,00,472 (first dose: 12,33,722  second dose: 5,66,750).
According to the release, there are 448 vacant general beds and 103 ICU/HDU beds of COVID-19 in seven hospitals of Manipur. 
In CMC, Koirengei (Contact No. 9612636004/9612905628) there are 27 vacant general beds and seven ICU/HDU beds;  in Iboyaima Hospital, Singjamei (Contact No.7005436870/ 9612022125) there are 25 vacant general beds and five ICU/HDU beds; in Jivan Hospital, Kakching (Contact No. 9366034272/ 7085348366) there are 20 vacant general beds and five ICU/HDU beds; in Shija Hospital (Contact No. 7005097688/7005125158) there are 43 vacant general beds and 35 ICU/HDU beds; in Raj Medicity (Contact No.7005105552/9366496411) there are 81 vacant general beds and 23 ICU/HDU beds, in RIMS (Contact No. 7640862396) there are 212 vacant general beds and 27 ICU/HDU beds and in JNIMS (Contact No. 8131855346) there are 40 general beds and one ICU/HDU beds. 
First Published:
Oct. 14, 2021, 5:45 p.m.