'KFA open night tournament signifies peace in Kangpokpi'
Former minister Haokholet Kipgen kicked off the biggest night tournament in Kangpokpi.
---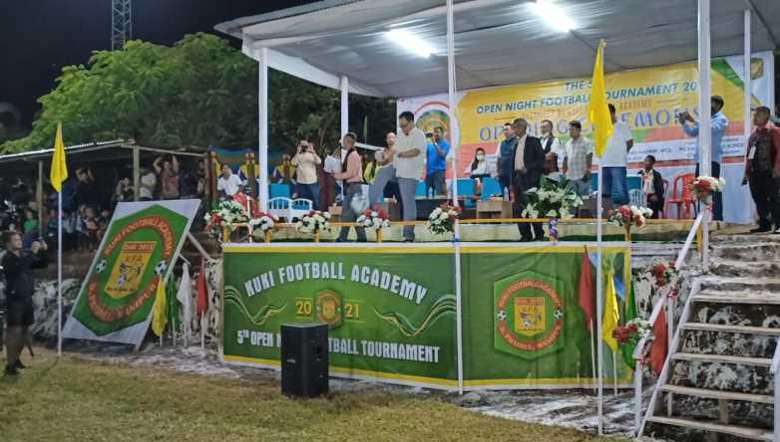 With 66 teams in the fray for Rs 1 lakh champion prize, the prestigious Kuki Football Academy's 5th Edition Open Night Tournament kicked off on Tuesday at D Phaihel village in Kangpokpi district.
Former minister Haokholet Kipgen kicked off the biggest night tournament in the state with great fanfare and pleasure as he attended the opening ceremony as chief guest in the presence of Kamginmang Kipgen, chief of Gamnomphai village who attended the occasion as president while SP Kangpokpi Karthik Malladi and CEO Sadar Hills Autonomous District Council Kangpokpi James Doujapao Haokip attended as guests of honour.
After hoisting the Kuki Football Academy flag as a mark of opening the 5th edition of its open night football tournament, Haokholet Kipgen while addressing the gathering said that the KFA's open night football tournament, which started five years ago, signified peace in the district. He also conveyed his happiness to witness the nightlife coming to the district after many years of fear and insecurity.
"For the past many years, the people of Kangpokpi could not dare to step out of their houses after dark. Now, we can play football after dark under bright lights without any fear and apprehension which clearly exhibited peace and normalcy in the district," he said.
He pointed out that we have been talking tall with a slogan no development without peace, so time has come for the people of Kangpokpi to witness developments as peace prevails in the district, and time has come for the Government to focus on the development of Kangpokpi district.
The former Minister encouraged the people of the Kangpokpi to live with a vision and work with determination in all aspects of life.
SP Kangpokpi Karthik Malladi said that the competition has to be in the spirit of brotherhood. He motivated the people to keep the competition alive which will enable the district to progress with peace.
To mark the auspicious opening ceremony, an enthralling friendly match was played between Kuki Film Development Corporation (KFDC) led by its president Paoneo Haokip and Mami Thawan led by Romi Meetei and Manipur superstar Sadananda.
Mami Thawan defeated KFDC 4-2 with goals from Aboi (1st), Avinash (18th), Romi Lamabam (47th), and Angsim (59th) while Paominthang (2nd) and Boboi (25th) scored for KFDC.
Thadou Inpi Kangpokpi District president Thangliensei Kipgen while appreciating the participation of Mami Thawan, appealed to the organisation to be an ambassador of peace and understanding among all communities living together in the state.
Later, the opening match between Kholjang Youth Club and Lalcha Memorial Team (LMT) Saparmeina ended with 3-0, in favour of LMT Saparmeina. Lun Lotzem (3rd), Momon (25th), and Bennaldinho (63rd) scored for LMT Saparmeina to open the team's first victory account in the tournament.
As the Kuki Football Academy presented its 5th Edition with a Rs 1 lakh champion prize with a trophy, as many as sixty-six teams/clubs from across the district and state registered to participate in the tournament where the runner up will take away a trophy and a cash prize of Rs. 70,000.
Much to the attraction of the players and teams, there are also individual prizes including Man of the Tournament, Top Scorer, Best Keeper, Best Defender, Best Midfielder, hattrick, etc. with attractive prizes.
The 66 teams from diverse communities across the state were divided into 22 pools with three teams in each pool, two of which will qualify for the knockout rounds.
There will be three-matches every night which will begin at 5 pm.
The opening ceremony was also attended by H Vikramjit Singh, Thangliensei Kipgen, Lamminthang Neishiel, and Lamminthang Misao apart from village chiefs, civil body leaders, etc.
KFA general secretary Thangminlen Kipgen presented all the dignitaries with traditional shawls and mementos as a token of love and respect.
First Published:
Oct. 14, 2021, 11:50 a.m.