Foundation stone for Athuan Abonmai Memorial Park to be laid on October 15
The Joint Action Committee against the Brutal Murder of Athuan Abonmai announced that 'funeral service cum condolence' programme will be conducted on Friday at Tarung Village Community Hall, Thangmeiband, Imphal
---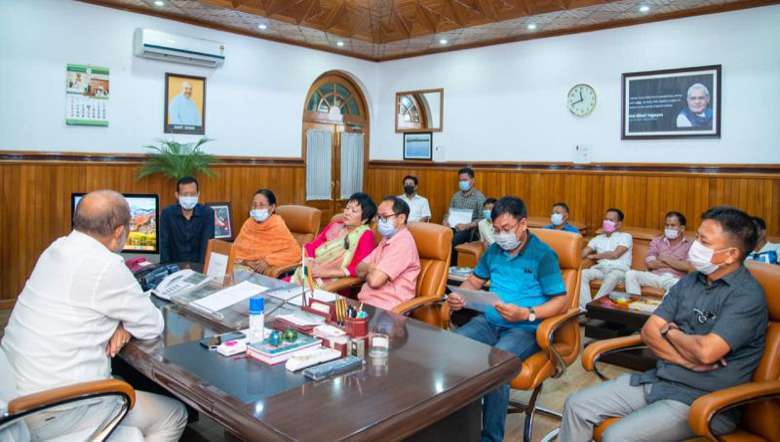 CM Biren meets with JAC against the Brutal Murder of Athuan Abonmai on Tuesday (PHOTO: Facebook)
---
The Joint Action Committee against the Brutal Murder of Athuan Abonmai on Tuesday announced that the JAC along with the family members of the deceased have decided to conduct the 'funeral service cum condolence' programme on Friday at Tarung Village Community Hall, Thangmeiband, Imphal, Manipur.
The programme will be commenced from 11.30 am onwards, before which the Athuan Abonmai Memorial Park foundation stone will be laid by Chief Minister N Biren Singh at memorial park site, the JAC stated in a release.
It stated that the family members and relatives of late Athuan Abonmai and the JAC requested to all the leaders of all the leading Civil bodies of the state and all the people who are well known to late Athuan Abonmai and those who have shared the pain and grief with the family members during the time of agony and who have stood in unison with the JAC during the time of searching for justice for the departed soul to take part in the funeral meeting.
It may be mentioned that Athuan Abonmai was abducted and murdered on September 22 at Tamenglong district, Manipur when he went to attend the official programme, 'Go to Hills' in which the chief minister had attended the programme as the chief guest, along with his cabinet colleagues and top government officials, the JAC stated.
His mortal remains were brought to Imphal on September 23 and kept at the RIMS morgue after completion of post mortem and other necessary official procedures and formalities, on the condition that the demands which the JAC had put forward before the state government were fulfilled so as to reach a settlement, it mentioned.
The JAC and the government of Manipur had held meetings for five times with the Chief Minister N Biren led s government. It was taken part by the chief secretary, additional chief secretary, special secretary, Home, DIG, DC Imphal West district from the side of the government while the JAC was represented by its convenor, advisor and leaders of the various Zeliangrong civil organisations, it added. 
First Published:
Oct. 12, 2021, 10:08 p.m.