Manipur's COVID-19 active caseload drops below 1,500
A total of 120 new COVID-19 positive cases were recorded in Manipur on Tuesday.
---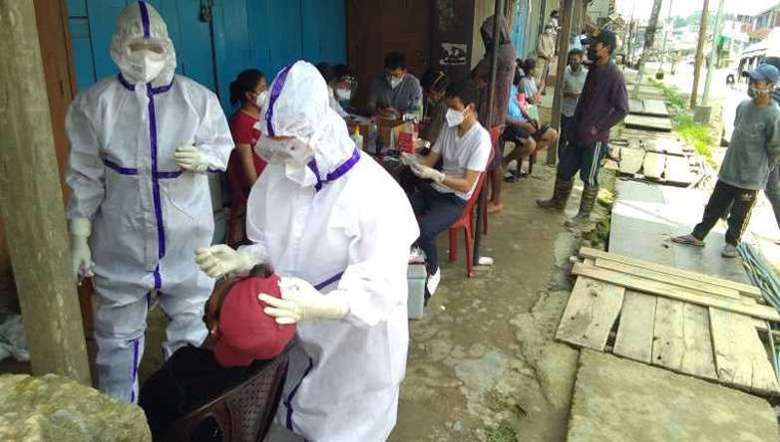 (File Photo: IFP)
---

The number of COVID-19 active cases in Manipur dropped below 1,500 on Tuesday, while the state's tally reached 1,22,228 with the addition of 120 new positive cases, according to the latest updates by the state health department.

As per a release issued by the state COVID-19 Common Control Room, 118 persons were discharged on Tuesday. However, due to various reasons, 274 persons are reported as discharged cases on only one Tuesday. Therefore, the total number of recovered cases is 392 after reconciliation with reports from IDSP team, home isolation team, community home isolation and hospitalisation team.

With these new recoveries, the cumulative number of recovered cases is 1,18,908 (General Population - 1,14,624 and Central Security Personnel - 4,284), leaving the recovery rate at 97.28  per cent and COVID-19 active cases at 1,433, it stated.

On Tuesday, 119 persons (62 males and 57 females) from the general population and one personnel from the Central Armed Police Force (CAPP) were reported as new COVID-19 positive cases, the release stated.

A total of 2,317 test results were received on Tuesday, of which 120 were found COVID-19 positive. The day's positivity rate is 5.2 per cent.

The positive cases from the general population included 24 from Imphal East, 49 from Imphal West, two from Thoubal, eleven from Bishnupur, one from Kakching, 13 from Ukhrul, five from Churachandpur, five from , Chandel, one from Senapati, four from Kamjong, two from Noney and two from Pherzawl. All necessary medical precautionary measures like containment and contact tracing are in place, it stated.

The death toll also mounted to 1,887 as two more persons from Imphal East died due to the infection in a span of 24 hours. Both victims had comorbidities and were not vaccinated, according to the release.

Meanwhile, the cumulative number of COVID-19 vaccine doses administered in the state reached 17,86,274 (First dose: 12,32,338 and second dose 5,53,936).

According to the release, there are 444 vacant general beds and 102 ICU/HDU beds of COVID-19 in seven hospitals of Manipur.

In CMC, Koirengei (Contact No. 9612636004/9612905628) there are 27 vacant general beds and eight ICU/HDU beds; in Iboyaima Hospital, Singjamei (Contact No.7005436870/ 9612022125) there are 25 vacant general beds and five ICU/HDU beds; in Jivan Hospital, Kakching (Contact No. 9366034272/ 7085348366) there are 20 vacant general beds and five ICU/HDU beds; in Shija Hospital (Contact No. 9436807346/7005125158) there are 45 vacant general beds and 37 ICU/HDU beds; in Raj Medicity (Contact No.7005105552/9366496411) there are 79 vacant general beds and 21 ICU/HDU beds, in RIMS (Contact No. 7640862396) there are 206 vacant general beds and 26 ICU/HDU beds and in JNIMS (Contact No. 8131855346) there are 42 general beds.

 
First Published:
Oct. 12, 2021, 6:31 p.m.