'State government should remove Mapithel dam if demands are not fulfilled'
MDAHCEO and JAC-AFCMD will intensify the agitation if the government fails to fulfil the demands, said Ngaranmi.
---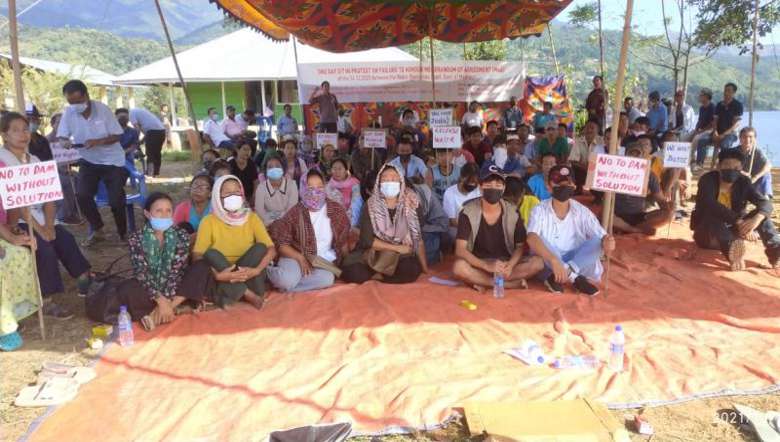 (PHOTO: IFP)
---
To bring normalcy to the villagers inhabited at the surroundings of Mapithel dam, the government should dismantle the dam immediately, said Mapithel Dam Affected Headmen, Chiefs and Elders Organisation (MDAHCEO) chairman M Ngaranmi.
He was speaking during a sit-in-protest staged at Lamlai Khunou village, Kamjong district which was jointly organised by MDAHCEO and joint action committee against force construction of Mapithel Dam (JAC-AFCMD) on Monday.
He said that the protest was conducted against the failure to implement the 19 points Memorandum of Agreement signed with the state government on December 4, 2020. For the same demand, the organisation and JAC had called a 48-hour bandh along Imphal-Kamjong and Imphal-Ukhrul road starting from October 6.
Various agitations had also been conducted demanding for implementation of 19 points MOA, however, no response has been made from the government till date, he added.
He continued that as per MOA, the state government has not approved the economic livelihood rehabilitation package for seven villages till date which is Rs 3 lakh per beneficiary or family and another 14 villages are yet to be approved for the package.  
In the MOA, it is mentioned that Rs 1.5 lakh shall be paid to the affected families before December 31, 2020 from the state budget and another Rs 1.5 shall be paid after the amount is released from either Donor Ministry or Water Resources Ministry during this year.
The agreement also mentioned that verification of the affected families for the rehabilitation package has already been conducted by concerned DC and department. And so, the compensation shall be paid as per existing norms applicable to the villages with respect to the year when the compensation will be actually disbursed to the submerged villages.
Ngaranmi further said that to implement the demand, an ultimatum was also submitted to the state government on September 16, however, the government never responded. The government should dismantle the dam immediately if the signed MOA is not implemented in time, he added.
MDAHCEO and JAC-AFCMD will intensify the agitation if the government fails to fulfil the demands, said Ngaranmi.
The sit-in-protest was staged with placards saying 'No to Dam without Solution', 'We Want Justice', 'Release Water' and others.
First Published:
Oct. 12, 2021, 1:57 a.m.