CM Biren confident of absolute majority for BJP in upcoming state Assembly election
Former MPCC general secretary M Prithiviraj joined Manipur BJP on Friday.
---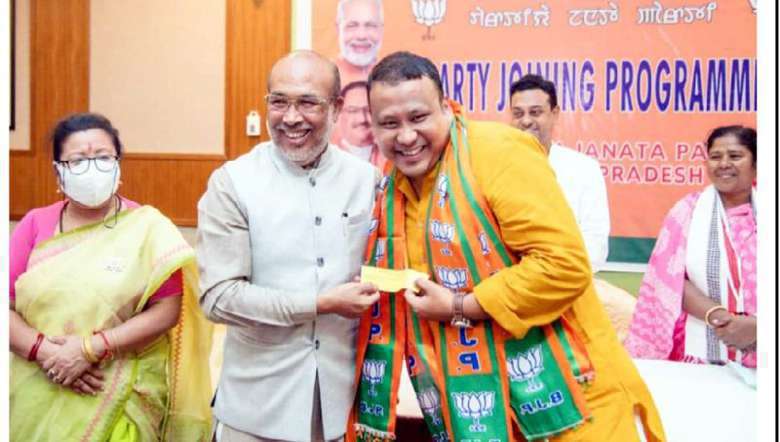 (PHOTO: IFP)
---
With the joining of prominent Congress politicians like M Prithiviraj and K Govindas to BJPManipur Chief Minister N Biren Singh on Friday assured that the BJP will get absolute majority in the upcoming Assembly election, 2022 and form a better government in the state.
The chief minister was delivering his speech during a programme organised to mark the occasion of M Prithiviraj joining the BJP at Hotel Classic Grande in Imphal.  
Prithiviraj is a former MLA of Moirang assembly constituency and a former general secretary of Manipur Pradesh Congress Committee (MPCC).
Lauding Prithiviraj for joining the BJP, Biren said it is all because of the positive changes brought by the people-oriented and friendly party (BJP) during the last few years.
Highlighting the various initiatives and welfare works taken up by Prime Minister Narendra Modi in the interests of the general public, especially the underprivileged families, he called Modi a 'living legend'.  
The ideology, vision and international fame brought for the country during the BJP rule is what made many politicians choose BJP over other parties, he added. 
BJP Manipur in-charge Sambit Patra said it was indeed a proud moment for BJP as a person who was a Congress-man yesterday joined BJP today by keeping trust in the party after witnessing its people oriented activities.
"With the rule of BJP both in Centre and in the state, the whole country especially the Northeast and Manipur is speeding towards development by leaps and bounce," he added. 
Joining such prominent politicians in the party clearly shows that the public have high hopes and trust in the BJP, said president of Manipur BJP A Sharda Devi. 
"I am deeply delighted to join the BJP which is now fully trusted by the general public after witnessing the various developmental and welfare activities which the BJP led government have taken up," said Prithiviraj while delivering his speech.
With support from the party, Prithiviraj assured to stick to the ideology of the party and serve the public.
First Published:
Oct. 8, 2021, 10:31 p.m.