Khaochangbung Bailey Bridge in Manipur's Saikul area inaugurated
The bailey bridge was constructed over Imphal River under Pradhan Mantri Gram Sadak Yojana.
---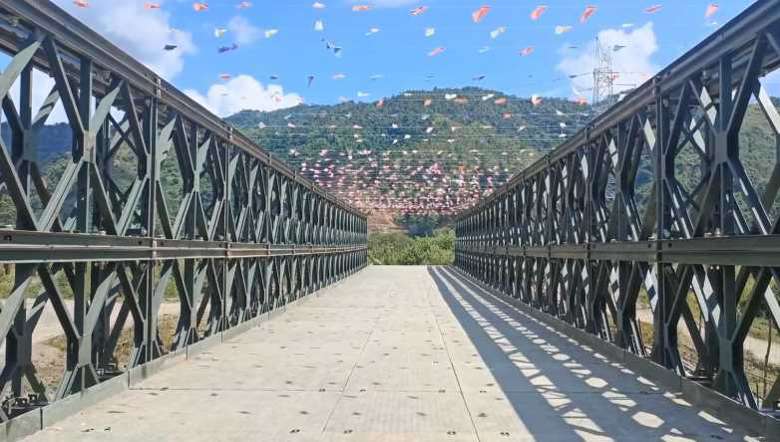 Khaochangbung Bailey Bridge at Gungal in Saikul (Photo: IFP)
---
The long-awaited dream of Gungal area under 46-Saikul assembly constituency was accomplished on Wednesday as the local MLA inaugurated the 150 feet Khaochangbung Bailey Bridge connecting the area with the rest of the state reportedly after a span of 100 years.
The bailey bridge was constructed over Imphal River under Pradhan Mantri Gram Sadak Yojana under package No MN06335 and the project was funded by the Rural Development, Government of India, Ministry.
The construction of the bridge began December 2020, and it was scheduled to be completed on this December 2. However, it has been completed before the scheduled date.
Inaugurating the bailey bridge, MLA Yamthong Haokip declared it open for public use before pastor H Molvom Lhoukhosat Kipgen dedicated the bridge.
MLA Yamthong Haokip urged the people of Gungal area and Khaochangbung area to always stand united.  The area has been neglected and nothing has been done for the past many years, he said.
MLA Yamthong Haokip said that Molvom village in Gungal/Khaochangbung area is almost 100 years old. The area itself is also as old as the village but no development could be witnessed for the past many years due to the absence of road connectivity, he added.
"I have been doing my best to install the Bailey bridge and am extremely happy to witness and accomplish the long-cherished dream of this area today. From now onwards, developments and changes will start in the area," he announced.
Chief of Khaochangbung also submitted a memorandum on behalf of the Gungal Area Chiefs' Association, urging the local MLA to install a transformer of 63W and a retaining wall at the abutment area of the bridge, to which the MLA assured to materialise it.
The people of the area were visibly thrilled to have the Bailey bridge as some of them were seen sitting all day on the bridge, looking at the old crumbling bamboo bridge hanging just near the newly inaugurated bailey bridge.
The new Bailey bridge will not only connect Gungal area with the rest of the state but also serve as another lifeline for the people of Saikul area as it connects Saikul hill town with National Highway 2 at Keithelmanbi.
First Published:
Oct. 7, 2021, 8:41 a.m.