Time to recall heroic deeds of forefathers by present leaders: O Joy
The veteran politician said that it is unfortunate to see the worsening political trends of Manipur.
---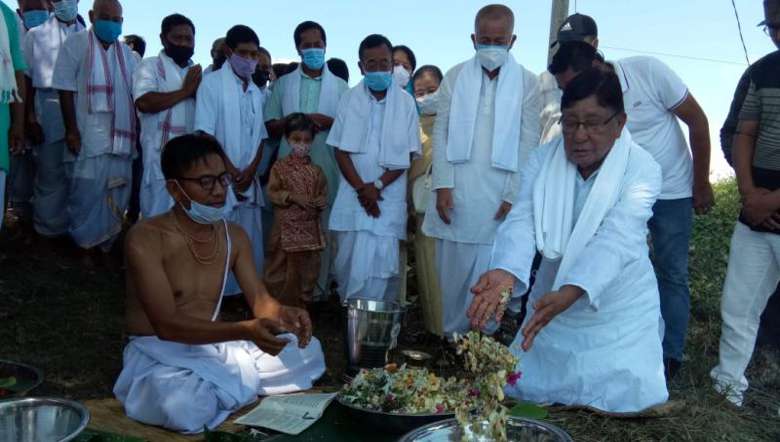 (PHOTO: IFP)
---
Terming that the present political scenario of Manipur is in a sorry state of affairs due to the alleged degradation in quality and moral of state leaders, veteran politician O Joy said that it is the high to remember and recall the dedication made by the then King and freedom fighters who fought to free the land from British's hand and seven year's devastation.
He stated this while paying tribute to the freedom fighters and the then King of Manipur in an annual religious ceremony of offering fruits and flowers to departed souls (last day of tarpon) at Lishang Hiden, place near the memorial complex of Gambhir Singh.
Addressing the media at the sidelines of the function, Joy said that it is unfortunate to see the worsening political trends of Manipur. The present government is a complete failure that is unable to fulfil their promises, he added.
He continued and said that when BJP came into power, they affirmed to take development work within 14 months which Congress-led government could not do in 15 years. However, the deplorable condition of the road from Canchipur to Lilong shows that this government is just good enough in lip service.
He said that in his recent visit in Manipur, Vice President Venkaiah Naidu not mentioning a single word about the murder of Athuan Abonmai is very unfortunate.
As the investigation is about to begin by the NIA, the chief minister should resign from his post and SP and DC of Tamenglong who took charge at the time of incident should be suspended to get fair justice, he reiterated.
First Published:
Oct. 6, 2021, 8:55 p.m.