Two drug peddlers arrested, 37.6 kg of suspected brown sugar seized
Thoubal police arrested the drug peddlers at Lilong Ningthikhong Road
---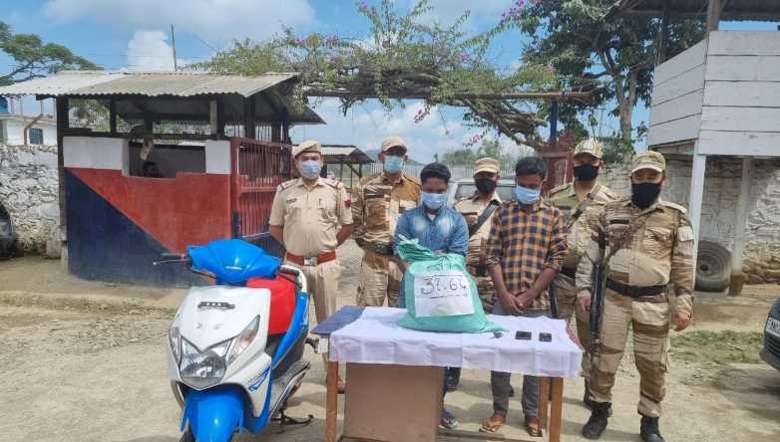 (Photo: IFP)
---
Teams of Thoubal District commandos arrested two drug peddlers at Lilong Ningthikhong Road, seized 37.6 kg of suspected brown sugar, two mobile handsets and a two-wheeler on Sunday, police sources said. They said Thoubal police received a tip off on Sunday at around 12.30 midnight about the transportation of illegal drugs at Lilong Nungei Ningthikhong area. 
An intensive frisking and checking was carried out at Lilong Ningthikhong Road by Commando teams of Thoubal district and a team of Youth Athletic Development Association (YADA) and a local club of Irong Mathak Development Committee (IMDC) under the supervision of additional SP (ops) Thoubal Sachidananda Soibam and OC, CDO Thoubal inspector N Tiken under the overall supervision of SP Thoubal, Jogeschandra Haobijam, the sources added.
It stated that during the operation, one unknown individual was seen driving a two wheeler vehicle towards Lilong Nungei in a very suspicious manner at 1.30 am. Observing the suspicious behaviour, he was detained for verification. On verification, he identified himself as one Md Nahamu, son of Md Kanden of Irong Khunou.
On searching, a light green colour polythene containing suspected brown sugar was found from his possession. He disclosed that the suspected brown sugar was given by one person. Without delay, the teams rushed to his house and detained another person identified as Md Rajib Khan, 38, son of Md Anjob Ali of Irong Echil Mathak, it stated.
Hence, they were arrested while the 37.6 kg of suspected Brown Sugar, two mobile handsets along with sim cards, and one Dio scooty white and blue in colour without registration number were also seized from their possession by observing formalities, the police source stated. The arrested persons and the seized items were being handed over to Lilong police station for necessary legal action, it added. 
First Published:
Oct. 3, 2021, 11:29 p.m.