BJP turned Manipur from 'Land of Jewel' to 'Moneypur': Jairam Ramesh
The Congress leader as a part of his five-day visit to Manipur met block-level leaders in Thoubal and Kakching districts.
---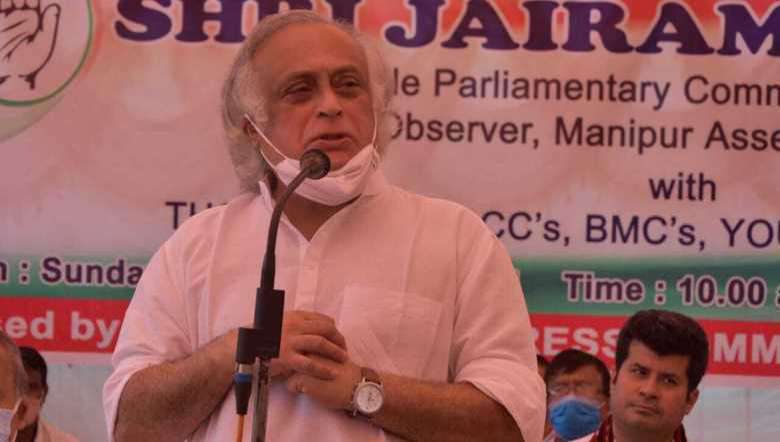 Congress party leader Jairam Ramesh in Thoubal on October 3, 2021
---
Jairam Ramesh, chairman of Parliamentary Committee, Congress party and senior observer of Manipur Assembly Election 2022, on Sunday said that the Bharatiya Janata Party (BJP) has turned Manipur from being a 'Sana Leibak' (land of Jewel) to 'Moneypur'. 
The Congress leader as a part of his five-day visit to the state went to Thoubal and Kakching districts and met with the block level leaders in different programmes.
In Thoubal district, a special interaction programme was held at the District Congress Office in Thoubal Athokpkam, during which he said that Thoubal is the home and a fortress for the Congress party. He asserted that if the Congress party can maintain its stronghold in Thoubal, the party will remain strong in Manipur.
He announced that after the Manipur Legislative Assembly election scheduled 2022 is held, the "people of Manipur will wave 'bye-bye' to Biren and further wave 'bye-bye Naren'" in the Lok Sabha election to be held in 2024.    
The Congress leader alleged that during the BJP rule in Manipur, no progress and developments have been achieved in the state. He said new projects were launched in the state during the tenure of former Prime Minister Dr Manmohan Singh and former state chief minister O Ibobi Singh.
"The N Biren-led government has not introduced schools, colleges and hospitals.  Instead, it is busy dividing the public and spending energy on corruption. PMGSY has also failed," he further alleged.
State Congress Legislature Party (CLP) leader, former chief minister O Ibobi claimed that Congress party candidates will easily defeat the BJP in the 10 assembly constituencies of Thoubal and Kakching districts.
The veteran Congress leader made a strong appeal to the district and block level workers to strengthen their unity and give concerted efforts to strengthen the Congress party.  "We all must stay resilient and work hard to bring back the freedom in our lives and recreate a progressive society," he asserted.   
Taking a jibe at the BJP, Wangkhem assembly constituency MLA K Meghachandra said that the BJP government is good only with words but not so much when it comes to actions. "They actually fooled the people by making themopen Zero Balance bank accounts with the promise of crediting Rs 15 lakhto each account holder. Has any of that promised money been transferred yet?" he said.
The occasion was attended by MLA Khangabok assembly constituency O Surjakumar; former MLA of Heirok assembly constituency M Okendro and intending candidates of Lilong, Wangjing-Tentha along with mahila workers and many frontal level Congress workers.  
First Published:
Oct. 3, 2021, 10:12 p.m.