Gold biscuits seized, member of transnational smuggling gang held in Imphal
The police team detained one Fakharuddin while conducting random frisking and checking at the North AOC area.
---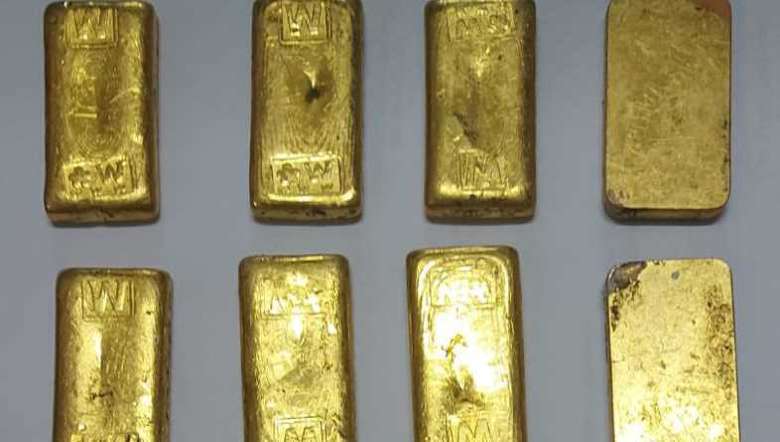 (Photo: IFP)
---
A team of Narcotics and Affairs of Border (NAB), Manipur seized gold biscuits weighing about 2.3 kg and arrested one member of a transnational gold and drug smuggling gang from North AOC area, Imphal at about 7 pm Thursday.
As per sources, the arrested person has been identified as one Md Fakharuddin Ali Hamad, 44, son of Md Baseruddin Kwakta Ward No I, Bishnupur district.
The police team detained Fakharuddin while conducting random frisking and checking at the North AOC area. During verification, he disclosed that he belonged to a transnational gang of smugglers dealing with gold and drugs from Myanmar to other states of the country through Manipur. He revealed that he worked with other members under a leader.
Fakharuddin said that under the command of their gang leader, he had smuggled gold and other illegal items like contraband drugs from Manipur to other states of the country many times earlier, sources said.
On further verification, 14 suspected gold biscuits were found concealed inside his socks. On his mobile phone, many incriminating photos and messages, including photos of gold biscuits and illegal drugs shared by his gang leader and associates were found in his WhatsApp application, as per sources.  
It is suspected that the gang has been smuggling huge quantities of illegal gold and contraband drugs from Myanmar to various parts of India.
The 14 gold biscuits along with two mobile phones were seized from his possession by the same police team and he was arrested at about 8.30 pm of the same day.
The arrested person and the seized items have been handed over to Imphal police station for further necessary action. A case has been registered at the same police station.
First Published:
Oct. 2, 2021, 10:03 p.m.