Protest demanding justice for Athuan Abonmai continues
Nineteen organisations from valley extend support to statewide bandh
---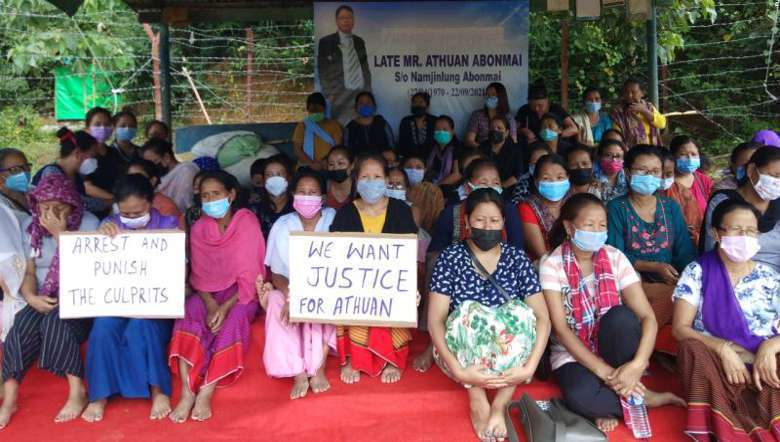 Women protesters demand justice for Athuan Abonmai's death
---
As the nation observed the 152nd birth anniversary of Mahatma Gandhi, who is the icon of non-violence, women in Manipur staged protests on Saturday, seeking justice for Zeliangrong Baudi (AMN) leader Athuan Abonmai, who was found brutally murdered in Tamei sub-division, Tamenglong. 
"We have all heard of the NSCN (I-M) camp at Buning in Tamenglong. Why are the state government and Central military forces protecting that place? If such protection is provided for NSCN (I-M), then why not give the same privileges to other militant groups of Manipur? Give protection for other militant groups too," AMKIL president L Nganbi said at a press meet held at DM College campus, Imphal.
The unity of hill and valley against these "terror activities" will be shown during the bandh, he said.
As many as 19 civil organisations, including student bodies, have expressed full support to the bandh from October 3 midnight to October 4 midnight called by the JAC of Athuan Abonmai, said Nganbi.
Nganbi categorically stated that Athuan Abonmai's murder cannot be resolved by pulling up a few suspects who reside in the valley, and added that agitations and protests will continue until justice of Athuan Abonmai is served.
"The state government should not play games with the mothers of Manipur. Athuan Abonmai was picked up in front of state security and AR personnel. The state government knowing the fact and circumstances of the murder, why should it hand over the case to NIA? It shows the weakness of the state government. Arresting unrelated persons in the name of suspects will not make the people become silent," she said.
"They must not assume that people are innocent and can be fooled easily by arresting two persons who should not be arrested," said Nganbi. Handing over the case to the NIA is not satisfactory to us because the incident took place in front of the government, and it knows the culprits. There is no point in letting the Central government authority take over the issue. Many cases that have been handed to the NIA or CBI are still pending," she added.
"There is little trust in the NIA as the NSCN (I-M) is still under the 'Framework Agreement' with the Central government but we will see," Nganbi said.
Student bodies namely AMSU, KSA, DESAM, AIMS and SUK formed human chains at Kwakeithel, Imphal West and displayed placards demanding justice for Athuan Abonmai.
"We will support any form of agitation undertaken by the JAC formed against the murder of Abonmai, and will never retreat until justice has been delivered," a student representative told the media.
"He came to attend a state function where Chief Minister N Biren Singh launched several projects in Tamenglong at Apollo Ground amid tight security. He was abducted and brutally murdered," an irate woman protestor at Grace Colony said.
"The chief minister is responsible for not protecting a civilian and we not only demand justice for Athuan Abonmai but also the resignation of the chief minister," Churtha, a woman protester, told the media.
Meanwhile, a meeting of 19 civil organization namely AMSU, AMKIL, NUPI SAMAJ, Tammi Chingmi, Nongpok Leingak Apunba Nupi Lup, ANUL, NIMPAL, Thoubal Ima, UMO, Thanil, NIPCO, UPF, Mapi Council, CADA, UPACO , MAPFA, EEVFAM, EECHAL, Macha Leima have resolved to intensify the agitations, demanding justice for Athuan Abonmai.
First Published:
Oct. 2, 2021, 8:42 p.m.