Manipur's daily COVID-19 positivity rate drops to 5.4 pc
Manipur logged 159 new COVID-19 positive cases on Friday.
---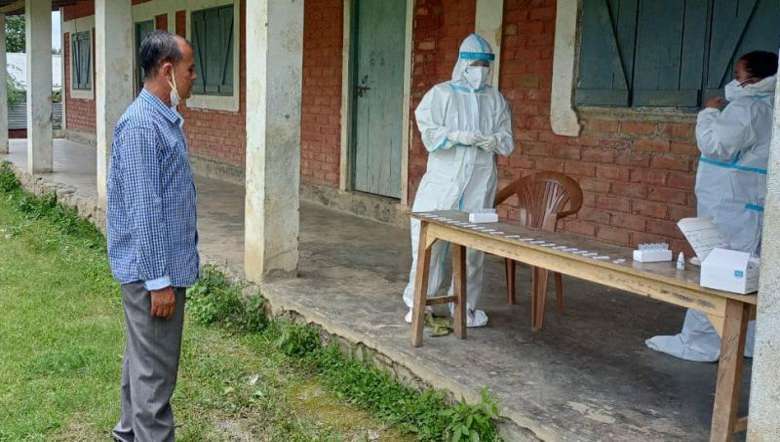 (File Photo: IFP)
---

Manipur on Friday recorded 159 new COVDI-19 positive cases, taking the state's tally to 1,20,743. The daily COVID-19 positivity rate in the state dropped to 5.4 per cent on Friday from Thursday's 6.8 per cent, according to the latest update by the state health department.

As per the update, a total of 2,821 test results were received on Friday of which 159 were found positive for COVID-19, including 84 from Imphal West, 35 from Imphal East, seven each from Thoubal and Churachandpur, five each from Bishnupur, Pherzawl and Tengnoupal, three each from Senapati, Tamenglong and Ukhrul and one each from Chandel and Kangpokpi, according to a release issued by the state COVID-19 Common Control Room.
All necessary medical precautionary measures like containment and contact tracing are in place, the release stated.
The state also recorded three more deaths - two from Imphal East and one from Imphal West, on Friday. With these three fatalities, the death toll surged to 1,858. The three deceased had comorbidities and none were vaccinated.
The cumulative number of COVID-19 recovered cases in Manipur reached 1,16,653 with 187 new recoveries. The number of COVID-19 active cases is 2,232 and the recovery rate is 96.61 per cent, as per the release. 
Meanwhile, a total of 1,123 D-type Oxygen cylinders and 350 B-type Oxygen cylinders have been
made available to different health facilities of the state in the last 24 hours. 
The cumulative number of doses of COVID-19 vaccine administered in the state has reached 17,02,902 (First dose: 12,23,626 and second dose: 4,79,276), according to the update. 
According to the release, there are 439 vacant general beds and 112 ICU/HDU beds of COVID-19 in seven hospitals of Manipur.
In CMC, Koirengei (Contact No. 9612636004/9612905628) there are 27 vacant general beds and eight ICU/HDU beds;  in Iboyaima Hospital, Singjamei (Contact No.7005436870/ 9612022125) there are 25 vacant general beds and five ICU/HDU beds; in Jivan Hospital, Kakching (Contact No. 9366034272/ 7085348366) there are 20 vacant general beds and five ICU/HDU beds; in Shija Hospital (Contact No. 9436807346/7005125158) there are 55 vacant general beds and 40 ICU/HDU beds; in Raj Medicity (Contact No.7005105552/9366496411) there are 74 vacant general beds and 21 ICU/HDU beds, in RIMS (Contact No. 7640862396) there are 196 vacant general beds and 23 ICU/HDU beds and in JNIMS (Contact No. 8837342526) there are 42 general beds and 10 ICU/HDU, it mentioned.
First Published:
Oct. 1, 2021, 6:38 p.m.