Search for a neutral Speaker
IFP Editorial: While Y Khemchand was lethargic on ongoing disqualification cases, he was swift in passing disqualification orders of those who deserted the government.
---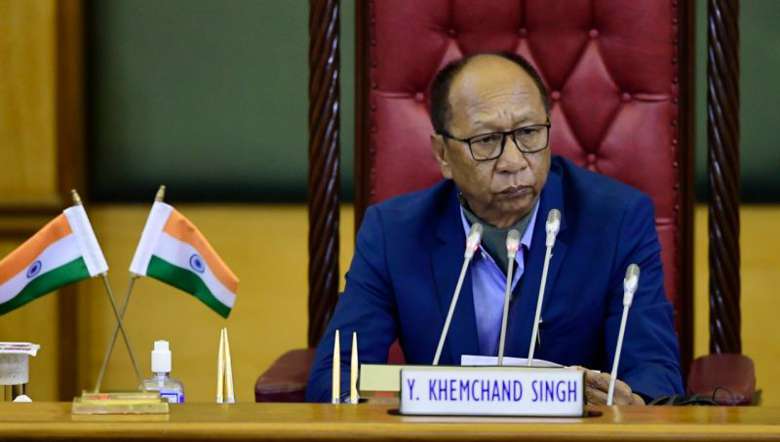 Manipur Speaker Y Khemchand
---
Manipur legislative assembly had a lot of interesting Speakers in the past, sometimes even leading to a legislator urinating on the Speaker's chair in the sacred assembly hall. He was a Congress legislator, who was disgusted with the Speaker's decision on the disqualification issue of some Congress legislators who were partitioned to save the then government. Notwithstanding the controversial case, Manipur had its share of good Speakers in the persons of the late Yumnam Yaima Singh of Oinam Assembly constituency and Dr L Chandramani Singh of Patsoi Assembly constituency whose rulings are still being revered. The Speaker, from whichever party he is elected, is the custodian of the Manipur Legislative Assembly and once he is elected as the Speaker he is supposed to be impartial and neutral in his rulings and other activities. It was a standard set by these two gentlemen. However, the tradition was broken during the stewardship of Haobam Borbabu Singh of Wangkhei Assembly Constituency when he was summoned by the apex court on account of controversial rulings on disqualification issues. It was a sad day for Manipur, when he was summarily transported in a jet for the hearing. The present Speaker Yumnam Khemchand Singh of Singjamei Assembly constituency is being frequently discussed in the media for his inaction with regard to disqualification notices served by the Congress party regarding Th Shyamkumar who was sworn in as a minister despite being elected on a Congress ticket and a host of other Congress MLAs who supported the BJP-led government. While Y Khemchand was lethargic on ongoing disqualification cases, he was swift in passing disqualification orders of those who deserted the government. This begs the question as to how neutral he was in his political positioning.
Veteran politician O Joy Singh was right in his comments regarding Speaker Y Khemchand's participation in a BJP meet. He said the statements made by the Speaker were unconstitutional and impaired the parliamentary system of democracy. Speaking in a press meet held at his residence in Singjamei, Imphal, O Joy said that the last session of Manipur Legislative Assembly was adjourned sine die on August 24. Therefore, there is still time to call another session as per provision of Article 174 (1) of the Indian Constitution. The Article states that the gap between sessions of the house should be less than six months, he said. Moreover, the Speaker does not have the power to summon or prorogue sessions according to rule number 55 (IV) of business of government of Manipur, 1972 based on article 166 clause (2) and (3) and of Indian constitution, he said. He informed that the house can be convened only after issuing an order from the chief minister to the governor. The veteran politician further questioned how Khemchand could make such claims that "final sitting of house was ended" when there are such rules. O Joy said Khemchand is still holding the post of the Speaker by observing the norms of the constitution. He pointed out that according to article 179 of Indian constitution, office of speaker and deputy speaker can be vacated only when he or she resigns, ceases to be member of the Assembly or removed by passing a resolution. However, such steps have not been done till date, he added. By sidelining all these rules knowingly or unknowingly, Khemchand attended the political programme which has been very unfortunate, he said. While holding such constitutional and highly dignified posts, Khemchand should not get involved in all these party meetings and should remain neutral, he added.
We think the veteran politician Okram Joy had raised a valid point in the conduct of a Speaker who is bound by law and the Constitution of India. Is he fit to sit on judgement of the articulations of our representatives whom we have elected? He is a politician, of course. But, do joining and meeting people or speaking at political meetings while being a neutral Speaker is permissible? That is the question?
First Published:
Oct. 1, 2021, 12:46 a.m.