'Regular health check-ups, avoiding intoxicants, junk food will prevent heart diseases'
Manipur health director Dr Rajo informed that house-to-house screening of Non-Communicable Diseases (NCD) will be conducted in 1,118 selected villages during the first phase of 'Health for All' scheme.
---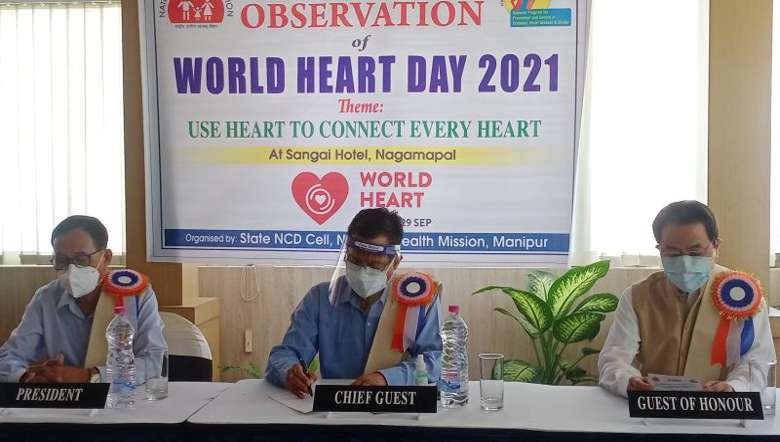 (PHOTO: IFP)
---
Regular health check-ups and staying away from consumption of intoxicants and junk food are the best ways to prevent oneself from heart disease, said director of Health Services Dr K Rajo on Wednesday.
He was delivering the chief guest speech during the observance of the World Heart Day, 2021 on the theme, 'Use heart to connect every heart' that was held at Sangai Hotel in Imphal. 
It was organised by the National Programme for Prevention and Control of Cancer, Diabetes, Cardiovascular Diseases and Stroke, National Health Mission (NHM), Manipur. 
Rajo informed that cardiovascular diseases are the leading cause of death globally, taking an estimate of 17 million lives every year. 
He said, in order to give treatment to the people having Non-Communicable Diseases (NCD), the state government will be soon launching a 'Health for All' scheme.
ALSO READ: World Heart Day observed in Thoubal
Elaborating on the scheme, he said that house-to-house screening of NCD will be conducted in 1,118 selected villages during the first phase of the scheme.
The person diagnosed with the NCD will be given treatment under the PMJAY or CMHT, he added. 
The director further informed that the state government had also launched a Tele-Cardiology Consultation for heart attack management at district hospitals of Senapati, Chandel and Churachandpur with cardiologist consultation from Sky Hospital.
Further informing that NCB Clinics have been opened in all the district hospitals, he said free medicine for diabetes; hypertension and heart disease are available at the NCB Clinics and other government health and wellness centres. 
President of Manipur Heart Foundation Dr L Shyamkishore while speaking as guests of honour, elaborated on the relation of heart diseases with post-Covid patients.
He said that many people had suffered from cardiac arrests after recovering from Covid. 
In recent days many young patients with a history of Covid had visited hospital with complaints of heart complacency, he added.
He suggested that getting screening of the heart regularly on a priority basis for post-Covid patients will be helpful in keeping the heart safe.
Taking up thermotherapy from the first day of getting infected by the Covid virus will also be helpful in preventing heart disease in post-Covid stage, he added. The function was also attended by state mission director of NHM, Manipur Dr N Shyamjai as president.
First Published:
Sept. 30, 2021, 1:11 a.m.